LED Lighting
We offer the most advanced LED lighting solutions in the industry. All our Lighted Mirrors come with LED lights as a Standard. We have carefully sourced and selected the top of the range LED lights. Each of our products is carefully tested before it leaves our facility.
Colour Rendering Index (CRI)
A Colour Rendering Index (CRI) is a measurement of how precisely a light source projects its true colours and is communicate in a spectrum from 0 to 100. A higher CRI shows a more precise colour reflection off the face or body. While other lighted mirrors companies use fluorescent tubes that usually have low CRIs of 50, or LED lights which have typically a CRI of 80. Clearlight Designs tops the market with LED lights with CRIs at 90+. This creates the most natural colour available.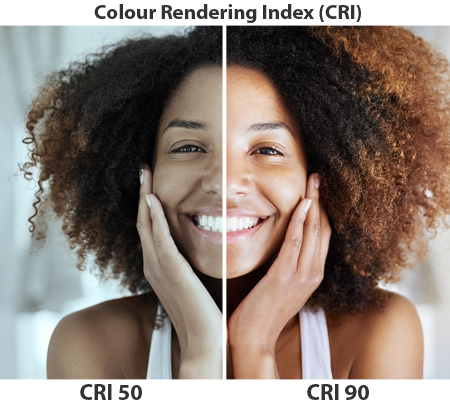 The lifespan of the LED's
A LED lifespan is expressed in hours and the lumen output naturally decreases over time. It is an incredibly slow decrease. Clearlight Designs has sourced LEDs that have an impressive lifespan of 70,000+ hours. With 70,000+ hours run time the LED's lights last on average 20 years. That is having the LED's turn on 8 hours a day 365 days a year for just over 20 years. Clearlight Designs is leading the industry with the highest lifespan LED lights available but if the unfortunate happens they can be easily replaced.
The LED temperature aka colour
Our standard and most popular are Natural daylight at 4000k, this is the accurate colour of lighting used when applying makeup. This comes as standard and is featured in all the photos unless stated otherwise. We also offer a Warm white at 3000k (optional). Colour temperature is conventionally expressed in kelvins. The Kelvin is often used in the measure of the colour temperature of light sources. Colour temperature is based upon the principle that a black body radiator emits light whose colour depends on the temperature of the radiator.
If you are not sure about the colour temperature of the LED's your local lighting store will have samples of LED colour temperatures on display.
Brightness
The LED's are powered by a 12vDC transformer and are 5050 LEDs that output 20 lumens per chip or 1200 lumens per metre. Both our Natural Daylight and Warm White have an output of 14.4 w/m. (watts per metre).