Halo Bathroom Lighted Mirror pictured
Halo Bathroom Lighted Mirror
Standard features include:
Super Slim

25mm! 

off the wall
Halo light glow
New Corrosion Free Mirror, imported from Belgium
Anodised finish on the aluminium
70,000 hours energy efficient 12v-volt LED lighting
12-volt transformer included
Turn on/off with a light switch on the wall
Designed & Made in Sydney, Australia
Warm White or Natural Daylight:
Optional Extras:
Claim your FREE Quote today!
This is a premium product designed & made in Sydney, Australia. Claim your Free quote below BUT be quick, as orders are filling up seriously FAST at this time of year!
Standard Halo Lighted Mirror Sizes
(W = Width, H = High)
Rectangle
1800mm W x 1000mm H
1600mm W x 1000mm H
1500mm W x 1000mm H
1400mm W x 1000mm H
1200mm W x 900mm H
1000mm W x 800mm H
800mm W x 1000mm H
600mm W x 800mm H
Custom size avalible
Square
1000mm W x 1000mm H
900mm W x 900mm H
800mm W x 800mm H
700mm W x 700mm H
600mm W x 600mm H
Custom size avalible
Round
1000mm
900mm
800mm
700mm
600mm
Custom size avalible
How is a lighted mirror installed?
Honestly, it is easier than mounting a TV to the wall. There are two parts to the lighted mirror. The mirror itself and the hanging structure. Firstly, the hanging structure is screwed to the wall. Then the Mirror locks into place over the top. Using our hidden double twin split batten system.
Internal side-view of how the install works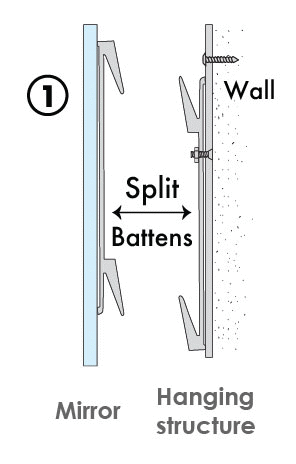 Custom Size Lighted Mirror
Absolutely, you can have a custom size. In the message box under  –  Size  –  select "CUSTOM" and Clearlight Designs will get back to you with a free quote.
How long does it take to receive my order?
Depending on current demand, the time until delivery ranges from 2 to 6 weeks. Remember that our products are made in Australia, and we take care when building your Halo Lighted Bathroom Mirror. With this in mind allow an extra 1 to 2 weeks for a custom order.
Can the lights be replaced?
Yes, the LEDs are replaceable. Just like any light you should be able to replace it when the unfortunate happens. To clarify though we do use the highest quality LED lights available.
So replacing the LEDs in the lighted mirror won't be for 25 years! Because the lifespan is a minimum 70,000 hours.
Want to know more about the lights?
Read more: Clearlight Designs LED lights
How is Halo Lighted mirror made?
Good question, firstly we cut and polish a mirror to size. Secondly, we bind LEDs around the Mirror. As a result, the mirror has a halo light effect that floods the wall with a soft glow.
The halo mirror achieves an even radiant distribution of light. The Halo Lighted Mirror is installed in a vast range of residential homes and commercial outlets throughout Australia.
How is it powered?
So with 12-volt LED lights, you need a 12-volt transformer. Of course, we include one with every Lighted Mirror. They plug straight into a power socket. The best position for the transformer, for example, is in the ceiling or inside the vanity unit.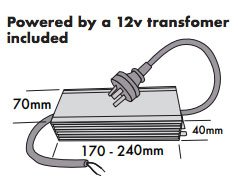 Can I have the Halo Bathroom Lighted Mirror in any room?
Yes, choose to install the halo mirror on any wall in the home. For example in the Bedroom, walk-in wardrobe, entrance, hallway etc.
Is a lighted mirror safe for the bathroom?
All our illuminated mirrors are safe, especially for the bathroom. Powered by 12-volts and with an IP67 rating.
To explain, the IP level is set by two numbers. The first one relates to the protection level against dust and the second against water. Therefore the higher the number, the higher the protection.
Delivery
Clearlight Designs ships all over Australia and the world. We guarantee that every product that leaves our workshop will arrive at its destination unharmed. We take the stress out of ordering a fragile item. In fact, never has one of our Lighted Mirrors arrived damaged.
Trade Discounts
Clearlight Designs offers trade discounts to certified Interior Designers, Architects, Developers, Builders and Design firms. To apply for a trade discount, please contact Clearlight Designs.
Do you have questions like?
Are the lights Dimmable?
Is an electrician required for installation?
How is Mirror turned on/off?
In short, these are all great questions! All questions and more are answered on our FAQ page Click here. But if you can't find your answer no problem just give us a call on (02) 9905 9570
Download My Free
Clearlight Designs Lighted Mirror can be found in


---
Australian Made Lighted Mirror
The Australian Made Campaign certifies us. Our office and factory are both located in Sydney, Australia.  Therefore we always have full control over the products we are manufacturing. We make The Halo Bathroom Lighted Mirror in Sydney, Australia. In other words, take trust in knowing that Clearlight Designs is looking after you.
---