An Amazing 2m high by 1.2m wide illuminated dress mirror.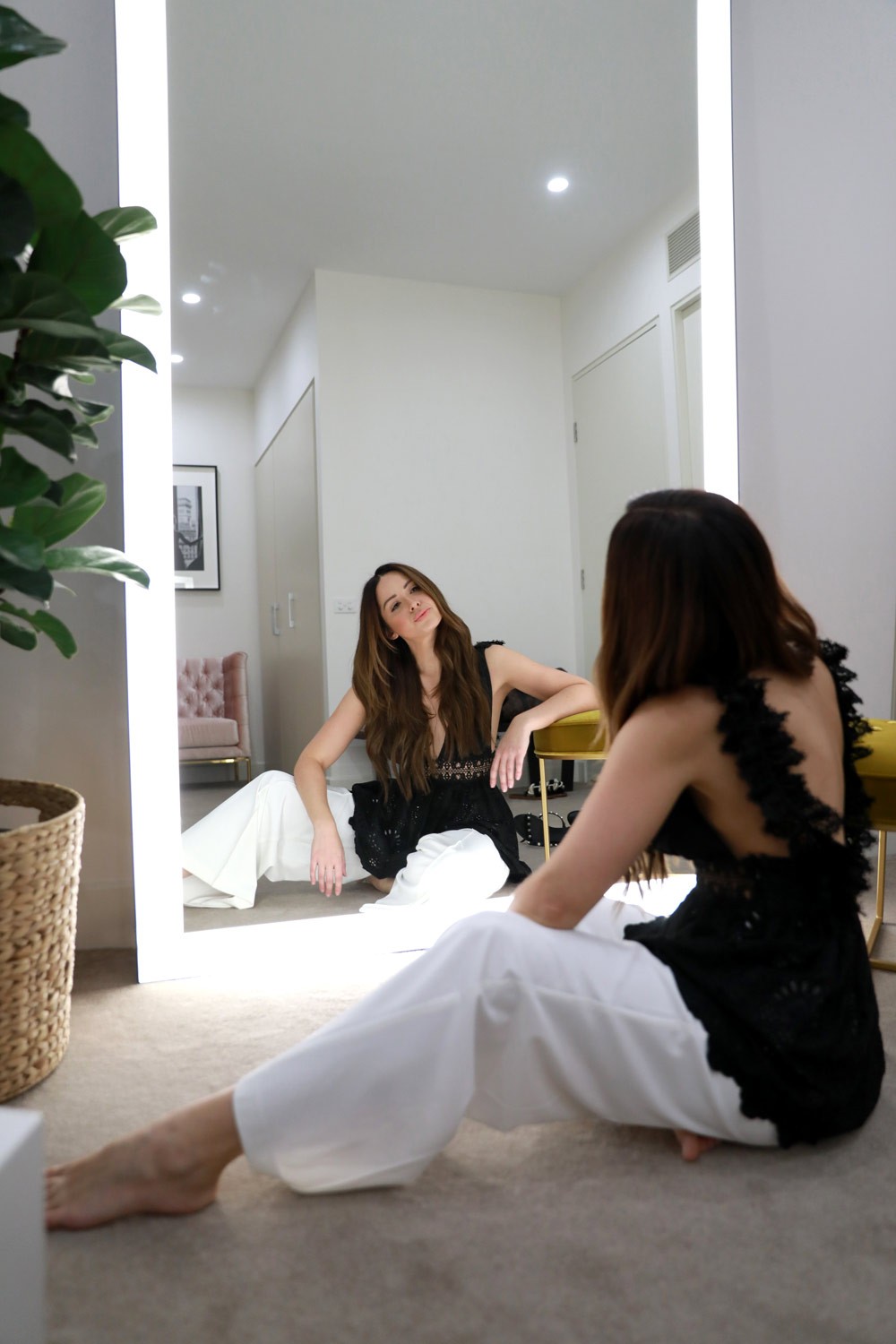 We have just completed a custom built for our friend Jasmin who is the Veuve Clicquot and Tresemme Ambassador. Jasmin is a hugely successful fashion blogger with an Instagram following of more than 233 thousand followers. Jasmin reached out to us after staying in one of the hotels in Sydney and was taken away with the Lighted Mirror in the bathroom. She quickly got in contact with us at Clearlight Designs and from there we collaborated and designed a Lighted Mirror to her dimensions.
Jasmin noted that she often shoots fashion clips within her apartment and constantly struggles with getting a well-lit environment to shoot from. Having seen our mirrors in the 5-star bathrooms in the hotels in Sydney. She like many others Jasmin was after a Mirror that did not just provide a reflection but also light. Modelled off the classic Hollywood style mirrors with the blubs around the mirror our Edge Metal Frame Mirror was born. With the light seamlessly integrated into the mirror. Now her fashion shoots are perfectly lit and we are excited to see her following rise. Check out her amazing shots of the Metal Edge Framed Illuminated Mirror.
The frame of the illuminated mirror is 50mm deep when viewed from the side, when viewed from the front there is a 3mm edge that runs around the entirety of the frame. Powered coated in a Matt Black finish. Metals are often powered coated when used in the harsher conditions. We powder coat out metal frames to ensure that no bump or scuff will damage the amazing colour of the frame. The frosted area around the edge of the mirror is sandblasted away and then that frosted area is then illuminated with the latest LED technology. Our LEDs are the highest grade we can find on the market. With 50,000 plus hours that are ensured to last. If an event happens where the LEDs fail or need replacing. The mirror can be easily removed and the LEDs can be replaced in a matter of minutes. The mirror that Jasmin has in the images below is 2 metres high by 1.2m wide.
We ship our illuminated mirrors worldwide but we only had to ship the mirror down from our factory in Sydney to her Melbourne apartment. A mirror at this size is heavy, it does weigh over 60kgs. A safety strap was added to the top of the mirror that will be fixed to the wall, to ensure the mirror cannot fall forward. Jasmin opted to just lean the illuminated mirror on the wall. But we can add a wall mount so the mirror is flush to the wall. This mirror is one of our best illuminated mirrors we have for purchase.