Weston Lighted Bathroom Mirror pictured
Weston Lighted Bathroom Mirror
Prices for this premium product start at $1,470. For an exact cost including shipping, extras, lead time and any questions just inquire or below – Get my Free Quote! or Call the experts (02) 9905 9570
Want to see what others are saying Check our reviews below!
Standard features include:
Sleek 50mm all metal frame
Duel edge light border
Professionally welded aluminium frame
Powder coated finished
New Corrosion Free Mirror, imported from Belgium
70,000 hours energy efficient LED lighting
Turn on/off with a light switch on the wall
Easy installation
Warm White or Natural Daylight:
Frame Colour avalible in:
Matt Back, Matt White
Gloss Black, Gloss White
Custom colour avalible
Optional Extras:
Claim your FREE Quote today!
This is a premium product designed & made in Sydney, Australia. Claim your Free Quote below BUT be quick, as demand is increasing constantly and we want to get your beautiful mirror to you ASAP!
Talk to the Owners a Father-Son team Warwick and Callan who can answer all your questions about Lighted Mirror – Call us (02) 9905 9570
Want to see what others are saying Check our reviews below!
We do Custom size Lighted Mirror
Contact us Online or Call us (02) 9905 9570
How to order
Firstly, fill out the quote box. Then we will get back to you with a free quote detailing the total cost and estimated delivery time. Lastly, when you are happy with the quote we will send through an invoice and get your order underway. 😃
Can I have a custom size light mirror?
Absolutely, you can have a custom size. To inquire online, via the contact box under  –  Size  –  define the size in millimetres and Clearlight Designs will get back to you with a free quote or you can Call us 📞 (02) 9905 9570
How is a lighted mirror installed?
Honestly, it is easier than mounting a TV to the wall. There are just two parts, the complete lighted mirror unit and a split batten. Firstly, the split batten is screwed to the wall. Then the Mirror locks into place over the top, using our double custom made split battens.
Internal side-view of how the install works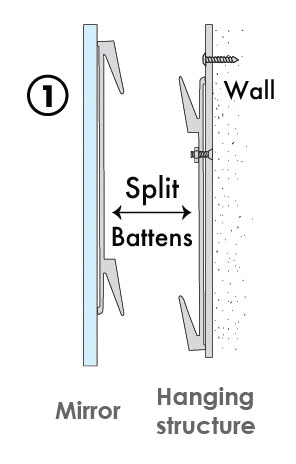 Can the lights be replaced?
Yes, the LEDs are replaceable. Just like any light you should be able to replace it when the unfortunate happens. To clarify though we do use the highest quality LED lights available.
So replacing the LEDs in your lighted mirror won't be for at least 25 years! Because the lifespan is a minimum of 70,000 hours.
Want to know more about the lights?
Read more: Clearlight Designs LED lights
How long does it take to receive my order?
Depending on current demand, the time until delivery ranges from 4 to 6 weeks. This product is made to order. Remember that our products are made in Australia, and we take care when building your Weston Lighted Bathroom Mirror.
How does a lighted mirror work?
Good question, firstly we sandblast the mirror from the back. Secondly, we flood the frosted divisions with light. As a result, there is no rough texture on the surface of the lighted mirror.
Sounds simple however achieving beautiful even frosting on the mirror, bound with a uniform distribution of light has taken years to get just right.
For instance, luxury Hotels like the 5-star 'Shangri-La' in Cairns trust Clearlight Designs.
How is it powered?
The Weston lighted Bathroom mirror is powered by a 12-volt transformer. Of course, we include one with every Lighted Mirror.
They plug straight into a power socket. The best position for the transformer, for example, is in the ceiling or inside the vanity unit.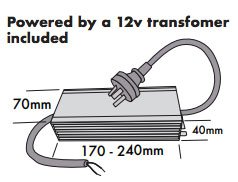 Can I have a lighted mirror in any room?
Yes, choose to install the mirror on any wall in the home. For example in the Bedroom, walk-in wardrobe, entrance, hallway etc.
What light is best for applying make up?
The best light for apply makeup is Natural Daylight, to try and not get too technical the LEDs we use are CRI-90 which creates the most Natural light possible from a light. The Weston Lighted Bathroom Mirror is a perfect makeup mirror because of the extremely bright light that is projected forward onto the face.
Delivery
Clearlight Designs ships all over Australia and the world. We guarantee that every product that leaves our workshop will arrive at its destination unharmed. We take the stress out of ordering a fragile item. In fact, never has one of our Lighted Mirrors arrived damaged.
Is a lighted mirror safe for the bathroom? 
All our illuminated mirrors are safe, especially for the bathroom. Powered by 12-volts and with an IP67 rating.
To explain, the IP level is set by two numbers. The first one relates to the protection level against dust and the second against water. Therefore the higher the number, the higher the protection.
Trade Discounts
Clearlight Designs offers trade discounts to certified Interior Designers, Architects, Developers, Builders and Design firms. To apply for a trade discount, please contact Clearlight Designs.
Do you have questions like?
How is the mirror installed?
Is an electrician required for installation?
How is the lighted mirror turned on/off?
These are all great questions, all questions and more are answered on our FAQ page Click here. Can't find your answer? Just give us a call on (02) 9905 9570
---
Reviews
See more Google Reviews
Clearlight Designs Lighted Mirror Hotel Clients


---
Australian Made Lighted Mirror
The Australian Made Campaign certifies us. Our office and workshop are both located in Sydney, Australia.  Therefore we always have full control over the products we are manufacturing. Drop by and see your light mirror being made. We completely make the Weston lighted bathroom mirror in Sydney, Australia. In other words, take trust in knowing that Clearlight Designs is looking after you.
---