Cabinet Bathroom Lighted Mirror Pictured
Cabinet Bathroom Lighted Mirror
Size and Price RequestIm a Trade Professional
Prices for this premium product start at $1,750. For an exact cost including shipping, extras, lead time and any questions just inquire or below – Get my Free Quote! or Call the experts 02 9905 9570
Want to see what others are saying Check our reviews below!
Standard features include:
Light enclosed in the door
Duel frosted light strips
New Corrosion Free Mirror, imported from Belgium
Double mirror, door mirror and internal mirror
4 adjustable toughened glass shelves
Soft close hinges
70,000 hours energy efficient 12v-volt LED lighting
12-volt transformer included
IP67 Rated
Turn on/off with a light switch on the wall
Designed & Made in Sydney, Australia
Warm White or Natural Daylight:
Optional Extras:
For a Free Quote fill out box below!  ⬇️
Contact us below for a quote or call the Owners a Father-Son team Warwick and Callan who can answer all your questions about Lighted Mirror – Call us 02 9905 9570
Want to see what others are saying Check our reviews below!
Standard Cabinet Lighted Mirror Sizes
(W = Width, H = High)
Single Door Sizes
600mm W x 800mm H
500mm W x 1000mm H
Custom size
Double Door Sizes
800mm W x 1000mm H
1000mm W x 1000mm H
1200mm W x 800mm H
Custom size
Triple Door Sizes
1300mm W x 1000mm H
1400mm W x 1000mm H
1500mm W x 1000mm H
1600mm W x 1000mm H
1800mm W x 1000mm H
Custom size
Four Door Sizes
1600mm W x 1000mm H
1800mm W x 1000mm H
2000mm W x 1000mm H
2100mm W x 1000mm H
2200mm W x 1000mm H
2400mm W x 1000mm H
Custom size

Multiple Doors and Larger Sizes avalible, Contact Us Today

How does a lighted mirror work?

Good question, firstly we sandblast two uniformed strips into the back of the mirror. Secondly, we flood the frosted strips with light. As a result, there is no rough texture on the surface of the illuminated mirror.
Modern and functional. Sounds simple however achieving a beautiful even sandblasting strip and uniform distribution within an 18mm slim door has taken years to get just right.
For instance, luxury Hotels like the 'Westin' in Brisbane trust Clearlight Designs.

Trade Discounts

Clearlight Designs offers trade discounts to certified Interior Designers, Architects, Developers, Builders and Design firms. To apply for a trade discount, please contact us here.
How is a lighted mirror installed?
Honestly, it is easier than mounting a TV to the wall. The cabinet comes fully assembled and ready to be installed. Firstly, the split batten is screwed to the wall. Then the cabinet locks into place over the top, using our double custom made twin split battens.
Internal side-view of how the install works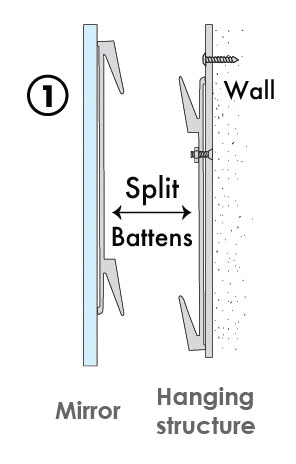 Can the lights be replaced?
Yes, the LEDs are replaceable. Just like any light you should be able to replace it when the unfortunate happens. To clarify though we do use the highest quality LED lights available.
So replacing the LEDs in your lighted mirror won't be for at least 25 years! Because the lifespan is a minimum 70,000 hours.
Want to know more about the lights?
Read more: Clearlight Designs LED lights
Custom Size Cabinet Lighted Mirror
Absolutely, you can have a custom size. In the message box under  –  Size  –  select "CUSTOM" and Clearlight Designs will get back to you with a free quote.
Cabinet Lighted Mirror the door open
Can I have a lighted mirror in any room?
Yes, choose to install the mirror on any wall in the home. For example in the Bedroom, walk-in wardrobe, entrance, hallway etc.
How long does it take to receive my order?
Depending on current demand, the time until delivery ranges from 2 to 6 weeks. Remember that our products are made in Australia, and we take care when building your Cabinet Lighted Bathroom Mirror. With this in mind allow an extra 1 to 2 weeks for a custom order.
Is a lighted mirror safe for the bathroom?
All our illuminated mirrors are safe, especially for the bathroom. Powered by 12-volts and with an IP67 rating.
To explain, the IP level is set by two numbers. The first one relates to the protection level against dust and the second against water. Therefore the higher the number, the higher the protection.
How is it powered?
The Cabinet Bathroom Lighted Mirror is powered with a 12-volt transformer. Of course, we include one with every Lighted Mirror.
They plug straight into a power socket. The best position for the transformer, for example, is in the ceiling or inside the vanity unit.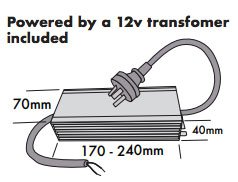 Do you just want the Mirror door with the LED Lights?
If you are a professional and want to collaborate with Clearlight Designs on a Cabinet design. We can collaborate with you or your cabinet maker to complete a functioning Lighted Bathroom Cabinet.
Not a trade professional and need instant a quote? Please contact us here
Do you have questions like?
Is an electrician required for installation?
How is the lighted mirror turned on/off?
Can a lighted mirror be recessed into the wall?
These are all great questions, all questions and more are answered on our FAQ page Click here. Can't find your answer? Just give us a call 02 9905 9570
---
Reviews
See more Google Reviews
---
Australian Made Lighted Mirror
The Australian Made Campaign certifies us. Our office and factory are both located in Sydney, Australia. With this in mind, it means we always have full control over the products we are manufacturing. We make The Cabinet Bathroom Lighted Mirror in Sydney, Australia. In other words, take trust in knowing that Clearlight Designs is looking after you.
---